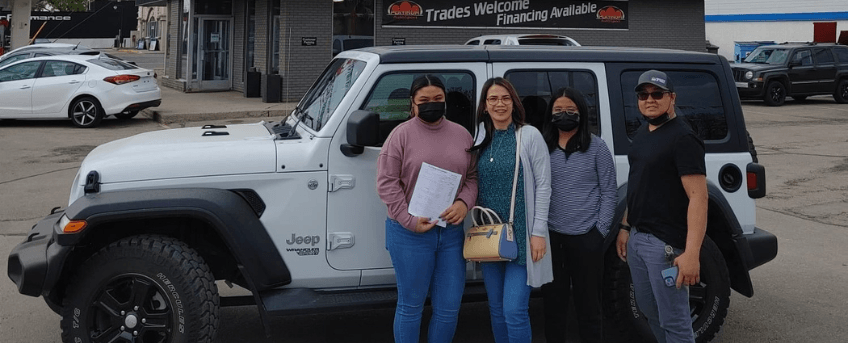 Looking for In house financing in Saskatoon? Platinum Autosport offers credit solutions for any situation. Over 25 credit lending partners on site to offer you the best financing rates with payments tailored to your budget. Travis Guest and his elite team of credit specialists brings over 30 plus years of experience in the industry so you can shop with confidence of approval. Get your free, no obligation credit report by filling out the form above.
Why Finance Through Platinum AutoSport?
Platinum AutoSport is a dealership founded on integrity. We provide drivers in and around the Saskatoon area with a wide range of pre-owned cars, pickup trucks, and SUVs, all offered at competitive prices and thoroughly checked for quality. We've worked hard to ensure we can accommodate the needs of every type of vehicle shopper, regardless of their budget or credit.
No-Hit credit inquiry
Credit solutions for any situation
Special low interest financing offers
Over 25 lending partners
In house financing
Free delivery anywhere in Saskatchewan, Alberta & Manitoba
Auto refinancing
Credit rebuilding & consolidation
Credit smart-start program
We take anything as Trade-in
Financial Options for Every Type of Credit
Platinum AutoSport is happy to work with every type of vehicle shopper, even if their current credit is less than ideal. We offer flexible financing options for drivers with no or bad credit, making it easy for vehicle shoppers to find a car loan that's right for their personal budget and needs. Already have an existing loan? We can help you refinance your loan, or adjust the terms of the contract. Our team is committed to helping drivers find the best automotive financing possible for their specific circumstances.
Refer a Friend Program
We appreciate our loyal customers, especially those who recommend us to their friends and family, and would like to do everything we can to give back to them. That's why Platinum AutoSport features a Refer a Friend program - to reward drivers who send new customers our way. If one of our customers refers a person to our dealership, and that person chooses to purchase a new vehicle, the referrer will be awarded $1,000.
Get Approved for Financing Online
Platinum AutoSport has made the automotive financing process easy and stress-free. Interested in getting started? Simply fill out the secure form below to get approved for financing. Once we've received your information, one of our automotive finance experts will reach out to you and discuss your next steps. Have any questions for us? Don't hesitate to reach out to our team by calling (306) 491-7275, or by sending us a message directly through our website.